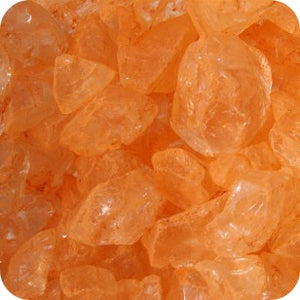 1.5 Pint Jar of Orange Ice Glass
---
Please contact us if you are interested in this product.
---
A kaleidoscope of light reflective color filler for interior design, home décor, window & showcase display, floral centerpieces, arts & crafts, etc. Accessorize with dry, silk or fresh cut arrangements. Drop them into vases, bowls, flower arrangements or scatter onto table. ICE rocks refract light in all directions and will sink when emersed in water. These gems create glimmering floral and candle arrangements in clear vases and bowls. Use for weddings, birthdays, parties, graduations, etc. Get creative with your vases, centerpieces and other event decorations with these gorgeous mini dyed crushed glass. These rocks give you wonderful color and options as scatters for your tables, inside your vases.
Coordinate with vases, scatters, fine colored sand, floral sand, candles and other decorations for your table centrepieces for weddings, Christmas, dinner parties, special events and parties.
These gorgeous gems are also known as ice rock table scatters, accents, vase filler, table party confetti, beach glass, decorative ice, and scatter crystals.
 
Made from real glass
Tumbled to dull edges
Safe to handle with bare hands
SKU SA-410-Orange